The Macomb High School Choir program is made up of two curricular choirs, Mixed and Concert, and three extracurricular choirs, Bomber Bellas, Bomber Basses, and Madrigal Singers.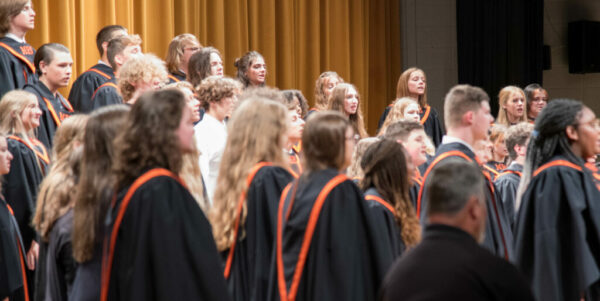 Mixed & Concert Choirs
The Mixed Choir is comprised of freshmen and first-year choir students in MHS. The Concert Choir is an auditioned ensemble comprised of 10-12th grade choir students. Both of these ensembles perform at all major concerts throughout the year. Students also have additional choral opportunities including ILMEA District 4 and All state choirs, preparation workshops throughout the year, various honor choir opportunities, and community events in Macomb.

Bellas & Basses
Bomber Bellas and Bomber Basses are treble and bass ensembles respectively. Bomber Bellas normally meet right after school on Tuesdays and Thursdays. Bomber Basses meet during lunch throughout the week. These ensembles perform at most of our major concerts throughout the year.

Madrigal Singers
Madrigal Singers meet Mondays and Wednesdays after school. This is an auditioned mixed ensemble that performs at most concerts throughout the year and travels to perform for the Macomb community throughout the year.